15

Stolzer Family Foundation Gallery

By M. L. Donnelly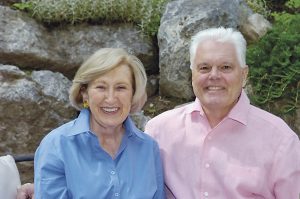 The Stolzer Family Foundation Gallery is named in honor of Eleanor and L. W. "Bill" Stolzer. Both Eleanor and Bill came from banking families; both were graduates (he in 1957, she in 1956) and enthusiastic and generous supporters of Kansas State University, where they met. They were married at Seven Dolors Catholic Church in Manhattan, August 17, 1957. Bill's father, Leo Joseph Stolzer, was a banker, and Eleanor was the daughter of Thomas "TJ" Griffith, whose family founded and ran the Union National Bank in Manhattan as well as other local business interests. Bill was a member of Beta Theta Pi fraternity and Eleanor was a Kappa Kappa Gamma member. Bill was an honor cadet in K-State's Air Force ROTC program. Upon graduation, his ROTC commission took the newly married couple to England for his stint with the Air Force Bomber Command. Eleanor had attended St. Mary's College of Notre Dame in South Bend, Indiana, before K-State.
Throughout their lives they traveled widely, particularly to Washington, D.C., Vail, Colorado, and Palm Springs, California, but they happily always returned to Manhattan to raise their family, join and eventually guide the family business interests, and contribute greatly to the community. They preserved Eleanor's family home and garden on Houston Street as an integral feature of the town's historic center, and the site of memorable receptions and entertainments. Bill's interests included his always impeccable attention to exquisite tailoring and his appreciation of wine, elegant skiing, and architecture; he oversaw construction of the modern six-story office building in downtown Manhattan, now the Commerce Bank Building, as headquarters of the Union National Bank of which he had been at various times president, CEO, and board chairman. Eleanor always made it clear that she "bled purple." She took a leading role in the KSU Foundation Board of Trustees and the Alumni Association, as well as the Athletic Council and the Marianna Kistler Beach Museum of Art Board of Visitors, while engaging in community service to her church and Meadowlark Hills, among many other leadership and charitable roles. They had two daughters, Ellen Bolen, now of Mission Hills, and Mary Kevin Giller of Manhattan, who continues the family connection with art at K-State, currently serving on the board of the Friends of the Beach Museum of Art.
It might be said of both Eleanor and Bill that their interest in art, manifested in their strong support of the Marianna Kistler Beach Museum of Art, was reflected also in their living gracefully and well: both cultivated the arts of friendship, entertaining, opera, ballet, and tailgate parties, as well as active engagement in skiing, tennis, and golf along with their manifold commitments to university and community organizations. Their gift to the Beach Museum of Art was designated for the purchase of equipment and works of art or support deemed necessary as authorized by the director of the museum.