6

Lincoln and Dorothy Deihl Entryway

By M. L. Donnelly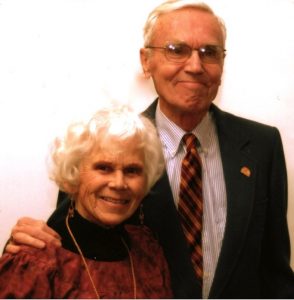 It was a singular good fortune for Manhattan and the Marianna Kistler Beach Museum of Art when Lincoln Wesley and Dorothy Deihl ended a lifetime of education and service around the globe by settling in Manhattan in 1979. Lincoln was born November 30, 1927, in Hamilton, Ohio; Dorothy on April 29, 1923. Lincoln received his bachelor of science degree from Bowling Green State University in 1949 and taught at Jeromesville High School in Jeromesville, Ohio, in 1949 and 1950. He served as a teaching assistant at Indiana University in Bloomington, Indiana, where he received his master of science degree in 1951.
Following stints as an instructor at the University of Akron from 1951 to 1952 and as an economic and financial analyst at the Cleveland Electric Illuminating Company from 1953 to 1955, he began his chosen career of carrying instruction in the latest American business techniques and practices to far-flung outposts abroad, serving as an instructor at Robert College, Istanbul, Turkey, from 1955 through 1958, before returning to the United States to serve as an assistant professor at Eastern Michigan University, Ypsilanti, Michigan, in 1959 to 1962. His major field was business education, in which area he pursued his Ph.D. at The Ohio State University serving as an assistant instructor from 1962 to 1964; he was granted the degree in 1964 with a dissertation on "Factors Contributing to the Selection of First-Level Office Supervisors with Implications for Business Education." He and Dorothy had married in 1954; she received her Ph.D. in anatomy and physiology from The Ohio State University, also in 1964, and together they embarked on a series of posts in the Middle East and Africa: five years at the American University in Cairo, Egypt; two years at Pahlavi University in Shiraz, Iran; two years in Ethiopia at Haile Selassie University; four years in Nigeria; and a year on a Fulbright Scholarship in Kathmandu, Nepal. Lincoln helped found or develop MBA programs and business administration departments while teaching MBA students, while Dorothy developed local contacts and took courses in Arabic studies, Egyptology, and local culture.
Moving to Manhattan in 1979, they made Kansas State University their professional home; Lincoln took early retirement from the College of Business Administration in 1990. They both led active lives and engaged in many activities including serving as Beach Museum of Art docents. They loved hiking and particularly enjoyed the Nature Trail on the Konza Prairie and the Friends of the Konza Wildflower Walks. The Manhattan Public Library was among their varied local interests. Even in their last years, they both exercised religiously at the Mercy Hospital Health Center. In their eighties, they did a bicycle tour around Greece.
Lincoln and Dorothy made an initial gift to the Beach Museum of Art at K-State in 2005 for the addition which opened in 2007. Dorothy died December 25, 2010, and Lincoln died September 6, 2015. The Deihls had been involved with the Greater Manhattan Community Foundation since 2008. On March 29, 2016, a "transforming gift" of more than six million dollars from the Deihls' estate to the Foundation was announced, the first installment of a bequest of potentially over eleven million dollars. Two funds were set up with the Foundation, one a donor-advised fund to support "community charitable causes," the other a designated fund that, in addition to their earlier gift, supports the Beach Museum of Art.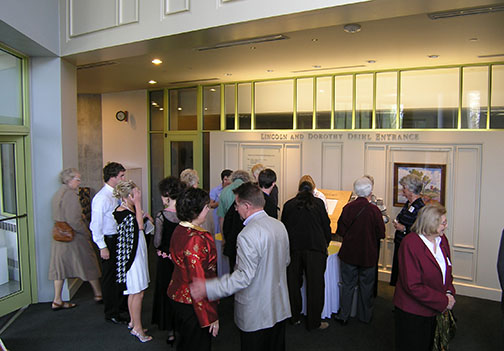 *