4

Dan and Beth Bird Archway

By Carole Chelz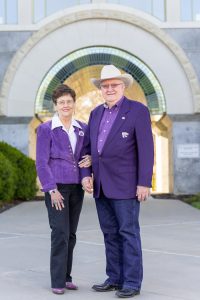 Dan and Beth Bird are no strangers to Kansas State University, and their legacy of philanthropic support, leadership, and service in so many different colleges and programs is impressive indeed. In 1964 Dan and Beth gave their first $10 gift to K-State. Dan was originally from Anthony, Kansas, and earned his degree in 1962 in animal husbandry, later changed to animal sciences and industry. Beth (Wilson) Bird was from La Crosse, Kansas, and attended K-State earning her degree in 1961 in business administration. Beth was in a cappella choir and a member of Angel Flight, a marching drill team. Dan and Beth met during their junior year on a blind date; she was a member of Delta Delta Delta and Dan was a member of Pi Kappa Alpha. While at K-State Dan was in Basic Air Force ROTC, however, following high school graduation, Dan had applied to study basic training at the Air Force Academy in Colorado but then discovered he was color blind. After their marriage (between graduations) the Birds moved to Anthony, Kansas, so Dan could take over the family farm. It was a big job — the farm included dairy cattle, thoroughbred and quarter horses, sheep, hogs, and a registered Hereford cattle herd. By 1968 they started owning stocker/feeder cattle and subsequently partnered with other cattlemen from Anthony and purchased their first feedlot at Pratt, Kansas.
Anthony, Kansas, sits on the Kansas and Oklahoma border and was named after the seventh governor of Kansas. The town is but three-square miles and the population is approximately 2,500 today. La Crosse, Kansas, is known as the "Barbed Wire Capital of Kansas" and is more centrally located with a small population of approximately 2,000. Therefore, Dan and Beth are two people who came to Kansas State University as young students to attend the school from two very small towns in the western part of the state. In June 2011 Dan, Beth, and their children and grandchildren celebrated their 50th wedding anniversary with a trip to Alaska. They will celebrate their 60th anniversary on August 20, 2021, with their daughter, Lynette, former student at K-State, son Marshall '89, and daughter-in-law Amber '91, and their grandchildren, Delaney and Alea, currently K-State students. Dan and Beth have traveled to all seven continents with the Traveling Wildcats and have never missed a football bowl game.
Dan and Beth never forgot their time at K-State and became great boosters for the Wildcats as well as lifetime supporters of the K-State Alumni Association. A partial list of the organizations in which they have invested are: K-State Alumni Association, K-State Gardens, K-State Marching Band, K-State Libraries, McCain Auditorium, Berney Family Welcome Center, scholarships in business administration, animal sciences and industry, and agricultural economics, the Football Excellence Fund, Men's Basketball Excellence Fund, and of course, the Marianna Kistler Beach Museum of Art.
In 2018 Dan and Beth Bird were awarded the K-State Medal of Excellence and are recognized on the President's Wall in Anderson Hall as well as the KSU Foundation Benefactor Wall. The Birds are recognized at the Beach Museum of Art by the designation of the Dan and Beth Bird Archway. Dan and Beth were members of the Beach Museum of Art Board of Visitors and Beth served as chair. The Marianna Kistler Beach Museum of Art has served as another focal point for Dan and Beth as they are ardent attendees to many of the events and lectures held at the museum. Not only are they regular, generous donors to the museum, they have helped purchase works of art and sponsored exhibitions and programs, including the highly attended visit of Pete Souza. One would find it hard to believe that Dan's color blindness would prevent him from enjoying art, and certainly their love of the color purple is notwithstanding. Dan's presence with his large cowboy hat, and Beth with her collection of turquoise jewelry, and their matching purple jackets make them hard to miss at any event.
Dan and Beth have attended museum sponsored trips, and one trip in particular became very important to the Beach Museum. At dinner one evening in New York City with museum director Lorne Render and his wife, the subject of the naming of various spaces in the museum came up and Dan asked Lorne if the archway had been named as it was now ten years after the museum had opened. The answer was NO. Astounding news to Dan — and he and Beth immediately decided that this was something that they wanted to do for the museum. The Dan and Beth Bird Archway has served as the link between Kansas State University and the Manhattan community for over twenty-five years.