3

Marianna Kistler Beach

By Marla Day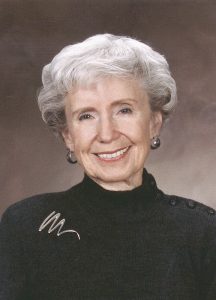 The Marianna Kistler Beach Museum of Art was named in honor of Marianna who, along with her husband Ross Beach, gave the lead gift to the Kansas State University Essential Edge Campaign in 1991 to build an art museum on campus. The gift would be a tribute to Marianna and commemorate their 50th wedding anniversary. The couple also established a $1 million endowment to be used for exhibitions and programming. They later gave an additional $1 million for the museum expansion. The gifts ensured that art would be available for all Kansans to enjoy.
Marianna came from a line of strong, educated women who appreciated the arts and providing educational and enrichment opportunities for their families and community. Her mother, Mae Skinner, hailed from Beverly, Kansas, near Lincoln. The Skinner family moved to Manhattan about 1909, and Mae graduated from Manhattan High in 1910. She left to attend Bethany College in Lindsborg graduating in 1914 from the Department of Music and Fine Art. Mae had studied music, public speaking, the dramatic arts, and literary interpretation. In coming years, her daughter Marianna will share her mother's passion for the arts, literature, and culture in her own exuberant way.
Mae married Elmer Levi Kistler in 1917. The Kistler family's roots lie deep in central Kansas in the small town of Lincoln. Elmer was a World War I veteran. Following his service he was a salesman for Lee Hardware of Salina, Kansas, and he continued to farm around Lincoln. Elmer and Mae had three children, and Marianna, born in 1919, was the oldest. She and her siblings attended school in Lincoln, and by 1934 the parents moved back to Manhattan, Kansas. Living in Manhattan the children could complete high school at Manhattan High and attend Kanas State Agricultural College during the lean years of the Great Depression. Also, moving to Manhattan the family would be closer to their maternal grandmother, who already was living there. Marianna always held Manhattan within a special place in her heart, and family ties were important. She would soon graduate from Manhattan High School.
While a high school senior, Marianna and her fellow high school art students left on a field trip traveling to Lindsborg to meet Kansas artist Birger Sandzén and then to McPherson to view the art collection of the McPherson School District. While visiting the Sandzén studio, the artist showed them his private art studio and his collection of paintings. One could speculate that meeting Sandzén, seeing his art, and learning of collections owned by schools, Marianna might have imagined a museum of Kansas art at her alma mater.
Marianna participated in many activities in high school and during her college years. She had become a community star who performed in numerous college and community plays. While in college she also was a columnist for the K-State Collegian, a beauty queen attendant, and active in the French Club, the Quill Club, and sorority member in Pi Beta Phi. Her college major was industrial journalism, and in 1941 she earned her degree with academic honors from Theta Sigma Phi Journalism Honorary and Mortar Board. She and her Mortar Board friends kept up with each other for over fifty years and created a leadership fund for students.
Marianna was involved with many collegiate student organizations while a student but considered her efforts to gain legislative approval to use student fees to construct the Kansas State University Student Union as most significant. Among her treasured memories she kept a newspaper article that featured a photo showing her at the table when the governor was signing the bill.
Marianna writing to a friend in August of 1940, "I've done one worthwhile thing this summer — snag one of the finer fellas around." Referring to Ross Beach, the couple married on June 1, 1941, near the Beach home in Bolivar, Missouri. The couple would later move to Hays following Ross's service in World War II. Three daughters were born – Mary, Terry, and Jane.
Marianna and Ross were not only generous with their time and intellect to support causes they believed in but they also financially supported them. Ross once said that "When we know of a need and it coincides with our interest, that's where we go. All of our decisions are mutual." Marianna said, "We want to see that students have the best opportunities."
Marianna ardently supported the arts and served on numerous boards, was a member of the Mid-America Arts Alliance and president of the Hays Arts Council. Using her journalistic skill, she was a columnist for the Hays Daily News for over twenty years, writing on art and city beautification. She was a patron member of the Kansas Press Women and honored with a Medallion award by the KSU Alumni Association in 1983 for humanitarian service. Devoted to helping individuals with special needs and handicaps, Marianna found ways to help maximize their individual potential. She served on the President's Committee on Mental Retardation for two terms as the U.S. representative to the president of the Inter-American Children's Institute of the Organization of American States. She later served three consecutive terms as president of the organization. Marianna also served at the state department for two terms on the President's Committee on Mental Retardation. For her dedication to individuals with special needs and handicaps, the Beach Center for Families and Disabilities at the University of Kansas was named in honor of Ross and Marianna. They both were awarded the Bob Dole Humanitarian Award in 2009 that recognized their efforts for enhancing the quality of life for individuals with special needs and their families.
Having lived in Hays, Kansas, for many years, the couple generously supported the Sternberg Museum of Natural History and the Beach/Schmidt Performing Arts Center at Fort Hays State University. Fort Hays State University awarded Marianna with the Distinguished Service Award.
When the couple moved to Lawrence, Kansas, they connected there as well, finding ways to contribute to the arts and culture of their new community. In 2010 they gave to the Lawrence Public Library the largest gift the library had received for their capital campaign building project, New Stories, and another gift that provided funds to create an Author Series that brought authors to Lawrence for community conversations and sharing.
Awarded Kansan of the Year by the Native Sons and Daughters of Kansas in 1988, the award celebrates individuals who have sought to preserve Kansas history, traditions, and pioneers while instilling the ideals of patriotism in youth.
Marianna was described as a "consummate traveler" and wrote detailed journals of the couple's travels to Africa and India. Her interest in international travel put her accomplished linguistic skills to work. Marianna was determined to never need a translator. At the age of sixty-five she enrolled in a summer immersion Spanish class in Quito, Ecuador, through Georgetown University. She was also deeply involved with the Kansas Paraguay Partners promoting cultural and technical exchange in agriculture, society, and health. Her efforts were recognized by People to People, and she was presented the Volunteer of the Year award and the Topeka Daily Capital Kansan of Distinction award.
Marianna said, "Art is so important to the richness of life." Their lead gift became the Marianna Kistler Beach Museum of Art at Kansas State University creating a legacy where lifelong learning for all youth and adults is valued and reflects the couple's lifelong interests in the arts, higher education, service to others, and philanthropy. Linda Duke, director of the museum, described Marianna "as a woman of vision, character, and grace. All of us benefited from the generosity and dedication of Marianna and Ross Beach. Their legacy is an inspiration for our work to celebrate the arts and creativity in this prairie state and region."