19

Ross Beach Conference Room

By M. L. Donnelly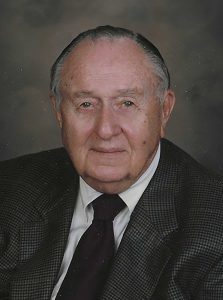 The Ross Beach Conference Room is named in honor of Ross Beach who gave $2 million to the Kansas State University Essential Edge Campaign in honor of his wife, Marianna Kistler Beach, in 1991. It was that gift, accompanied by an additional $1 million endowment to fund exhibitions and programming, that assured the creation of an art museum on the Kansas State University campus. In addition to that first gift, given as a tribute to his wife on their 50th wedding anniversary, Ross and his wife later gave the lead gift to be used for the expansion of the museum.
It is tempting to speculate that had he been born in Italy in the fifteenth century, Ross Beach would have certainly been at home in the company of powerful bankers and patrons of the arts like the Medici; he has, after all, been called "the Renaissance man from Hays." But his story is actually a quintessentially American success story. He was born February 22, 1918, in Abilene, Kansas. His mother died of complications from childbirth two weeks later, and he was adopted by the uncle for whom he had been named, and his wife Mattie. His adoptive father was a manager and part owner of the Solomon Power Company, and Ross learned about the energy business from the ground up, digging pipelines and working various jobs in the summer. He enrolled at K-State to study engineering, graduating in 1940 and setting out to build various businesses that would eventually encompass oil and gas production, ranching, banking, and radio and television broadcasting. From the very outset of his career, he evinced an ability to learn a new business and apply his considerable management skills in different fields, while shrewdly sizing up promising new business developments.
To oversee his various business interests, Ross took up flying. "My first ride in an airplane was my first flying less," he said. He had earned his commercial, instrument, and instructor's permits before he joined the Navy as a pilot during World War II. In the spring of 1941, he took his girlfriend, Marianna Kistler, on an airplane ride, and once aloft, deftly turned the open-cockpit plane upside down. If he was testing her to see if she shared his daring and appetite for adventure, she passed the test. In fact, much later, Marianna earned her own pilot's license at the age of forty-five. "I loved the excitement and the feeling of freedom," she said. Ross's evaluation of the appeal of flying captures his restless energy and wide-ranging interests: "Aviation has been an important key in business success," he said. "It's a cheap tool and an enabling factor that allows you to get someplace quickly to look after things and then move on to the next thing you need to do." In more than fifty years of flying, Ross logged more than a million air miles and earned numerous citations for his record of flight safety.
His business success led to his participation on various boards. He was president of Kansas Natural Gas Company, chairman of the board of Douglas County Bank, and a member of the boards of the former First National Bank of Kansas City, Dillons Stores Inc. of Hutchinson, Woods Petroleum Corporation, and the National Aircraft Association, among many others. In addition, at various times he headed the Kansas State Chamber of Commerce, the Kansas Forestry, Fish and Game Commission, the Kansas 4-H Foundation, and the Kansas State Fair. He was a trustee of the KSU Foundation and the Menninger Foundation in Topeka.
Ross and Marianna generously shared their success through a wide range of charitable giving. "When we know of a need and it coincides with our interest, that's where we go," Ross said. "All our decisions are mutual." In addition to their support of the Marianna Kistler Beach Museum of Art, which then President Jon Wefald called "among the most significant gifts ever made to Kansas State University," and their numerous other gifts benefiting the eight academic colleges, intercollegiate athletics, and the university libraries, at Marianna's direction the Beaches took a particular interest in children's issues and issues of mental retardation. Both of them received the Bob Dole Humanitarian Award in 2009. Ross was a charter board member of the Dane Hansen Foundation and received the Kansas Council of Economic Education's Founders Award from former Governor Kathleen Sebelius in 2004 for his championing of the teaching of economics in Kansas schools.
In 1989 he received the President's Award from K-State. He was inducted into the Kansas Business Hall of Fame and was named Kansan of the Year in 2001 by the Native Sons and Daughters of Kansas, catching up with Marianna, who had received the same award in 1989 — the only husband and wife to receive that prestigious award.
Marianna credits the success of their sixty-nine-year marriage to mutual respect, consideration for each other's opinions, and humor. From that beginning courtship in an open-cockpit plane, it was a lifelong romance and friendship. "We have such fun," she said.
The Ross Beach Conference Room appropriately provides an attractive and functional place for Beach Museum of Art staff meetings, meetings of the executive committee of the Friends of the Beach Museum of Art, and other small groups engaged in planning and oversight of future activities advancing the interests of the museum and the university.