14

Mary and Morgan Jarvis Wing

By Anthony R. Crawford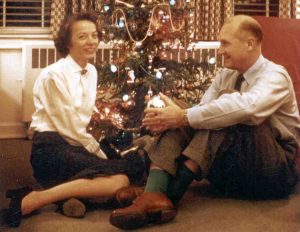 After her death in 2004, the estate of Mary Jarvis provided major financial support for the Marianna Kistler Beach Museum of Art and an addition to the building. This bequest led to a new wing being named in honor of Mary and her late husband, Morgan Jarvis.
The seventeen thousand square foot, two-story structure opened in October 2007 and included three new galleries: Archie and Dorothy Hyle Gallery, Marion Pelton Gallery, and Stolzer Family Sculpture Garden. The lower level included much needed space for art storage and office and work areas.  A Morgan and Mary Jarvis Wing Excellence Fund provides support for new exhibitions.
Mary (Kennedy) Jarvis (1918 – 2004) was a native of Lawrence. In 1942 she was credited with becoming the first woman to receive a bachelor's degree in landscape architecture from Kansas State University. During her college years she was actively involved with the horticulture club and Alpha Delta Pi sorority. A bequeathed endowment provided funding for the Mary Jarvis chair in the Department of Landscape Architecture, now the Department of Landscape Architecture and Regional & Community Planning.
Morgan K. "Al" Jarvis (1921 – 1972) graduated from K-State's College of Veterinary Medicine in 1940. During his career he worked as a general practitioner in veterinary medicine, an associate professor at Colorado A&M (now Colorado State University), and a supervisor of biological production for Eli Lilly and Company in Omaha, Nebraska.  The Jarvis estate established the Morgan K. Jarvis faculty chair in the College of Veterinary Medicine.
Mary Kennedy and Morgan Jarvis were married after Mary graduated from K-State. She passed away in 2004 and was preceded in death by her husband in 1972.