22

Mary B. Helm Works Examination Room

By Mary Helm Pollack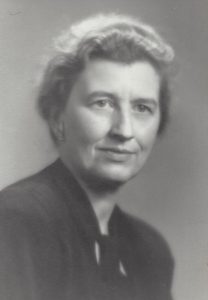 Mary Brownell was born in Peru, Nebraska, in 1898 where her parents had come from New York state for her father to teach at Peru State College — the first school of higher learning in Nebraska. A few years later the family moved to Lincoln, her father becoming a professor at the University of Nebraska. My mother, Mary Brownell Helm, grew up in Lincoln with her six brothers and sisters and graduated from the university. She taught high school for two years in western Nebraska (Holdridge), and then received scholarship aid to attend the University of Illinois receiving her master's degree in modern language (French) in 1924. She was immediately hired by Professor John VanZandt Cortelyou, head of the Department of Modern Languages at Kansas State College and a friend of the Brownell family, to teach French and Latin at KSC. She arrived in 1924, the same year that John Helm arrived from Syracuse to start teaching in the Department of Architecture.
Mary and John Helm met at a faculty dance their first semester at K-State. After they married on June 20, 1927, Mother, of course, had to stop teaching because at that time a state institution was not permitted to pay both members of the same household, i.e., a married couple. Their wedding took place at Mother's home in Lincoln, Nebraska.
Mother became very active both at home and in the college community. At home she was an outstanding cook — she would do anything and everything in the kitchen. During the depression in the 1930s and World War II, I never knew there was a problem getting food on the table: she could make anything taste good. She was an excellent seamstress and made most of my clothes for many years. Later she started weaving and, with the use of two looms, wove and made drapes, upholstery, and suit material.
She kept up with serious literature (no true romance for her!). She and two friends started the Book Club where the ladies read the books and did the reviews. Mother was often asked to deliver her reviews for other clubs in town. She was active in the Domestic Science Club and belonged to two bridge clubs (she was a demon bridge player, in her own quiet way). She was on the board of the Manhattan Public Library, 1942 – 1953, serving as president of the board during the 1951 flood — a real challenge.
Mother was very helpful to Dad: for years she hosted openings for the Friends of Art exhibitions and other exhibitions that he organized for the College — and there were always teas for the openings. Mother fixed the teas, made the cookies, and took the Russian samovar and dishes in bushel baskets up to school, setup on tables, served, and then took everything home again!
By the time the Beach Museum of Art actually came into existence, and after all the years of talking about an art museum, and the years of disappointments when nothing worked out for Dad, Mother was no longer as physically active as she had been. She did keep up-to-date about the planning and building of the museum, and when it was built I took her there to see all of the pictures. So many of them (the pictures) were "old friends," painted by old friends of theirs. Dad knew many of the artists so well: they were always entertaining them at home.
Mother, of course, wished to support the museum, and we talked about how much she could give to help. For us it was a generous amount, but not the large sum that many others could and did give. We thought no more about it until one day Lorne Render, director of the Beach Museum of Art, called and said they wanted to name the examination room for art after Mother. He knew her background and interests, and knew how suitable a space like that would be with her name on it. We were totally taken by surprise and we owe him a deep debt of gratitude. And I know that Dad would be so very pleased, and I am so glad to know that the room is so well utilized.
Mother passed away in 2005 in Manhattan at the age of 106! My father preceded her in death in 1972. They are buried next to each other in Sunset Cemetery, Manhattan.
[Editor's note. Located adjacent to the museum registrar's office and the Mary Lee Graham Library, the Mary B. Helm Works Examination Room is a space where museum staff, artists, small classes, and visiting researchers examine works of art in the holdings in addition to other uses such as reviewing potential donations and shipping and receiving art for exhibitions. For more information on John Helm, see the article on the John F. Helm Gallery in this publication.]