20

Patricia Riker Conderman Program Office

By Cindy Sloan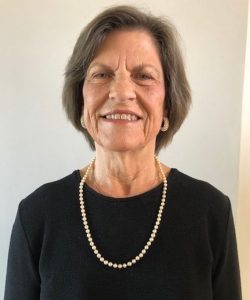 "The Marianna Kistler Beach Museum of Art is one of my favorite institutions in Manhattan," says Pat Riker Conderman. Pat is a Kansas State University graduate and longtime Manhattan resident. Pat was on the founding board of the Beach Museum of Art serving as president for three years while funding was sought to build the museum.
Pat brought Alan Shields, gifted Kansas artist, to be the gift print artist in the early years of the museum. She, along with others on the museum collection committee, approved the purchase of Shield's sphere to be displayed in the main hallway of the museum.
She established the Pat Riker Conderman Endowment. The purpose of the endowment fund was to purchase café furnishings in the Marianna Kistler Beach Museum of Art (now the area outside the UMB Theater). An additional amount was placed in a permanent, nonexpendable account with the Kansas State University Foundation. The annual available earnings on the principal are used to fund educational programs in the museum. "I want children to become familiar with the arts through this endowment," says Pat. She made a second major gift to her endowment and additionally contributes annually to the Beach Museum of Art.
Pat retired in 2019 from being a longtime member of the Beach Museum of Art's collection committee.
Pat's love of art is also witnessed by her early involvement as a member of the Manhattan Arts Council. In addition to her involvement with the arts, Pat has served as president of the Manhattan Zoo Trustees and president of the Manhattan Library Trustees.
In appreciation for her longtime and generous support, the Beach Museum of Art's Program Office is named in her honor. Through Pat's efforts and contributions the arts will live on.