7

Orval Hempler Gallery

By Marla Day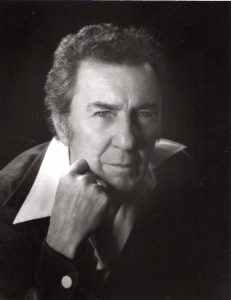 The long gallery corridor which connects each of the galleries of the original Marianna Kistler Beach Museum of Art is named in honor of Kansas artist Orval Frederick Hempler (1915 – 1994). Orval was born in Almena, Norton County, Kansas, the son of Otto and Emma Hempler. He attended public school in Almena along with three sisters, Hilda, Donna, and Margaret, and a brother, Wilfred. Orval participated in numerous public school events giving readings, both musical and theatrical performances, and oratory competitions. From these he developed his cultural exposure to the arts. He also participated in high school track events and delivered the local newspaper for many years. The Almena Times described Orval as "popular, and a rustler who delivers the papers to you on time regardless of weather," evidently a very hard-working young man.
Following high school graduation in 1933, Orval enrolled at the University of Colorado, Boulder. He participated in numerous college clubs and organizations and exhibited his artwork yearly with the Kansas Prairie Watercolor Society earning a sweepstakes award at the Hutchinson State Fair in 1937. While studying at the University of Colorado he was a member of the National Art Society Delta Phi Delta honorary (now disbanded) and was president of the Boulder Junior Art Guild. He was named to the Denver Post Gallery Fame in 1938. Orval earned his bachelor of fine arts degree and following graduation in 1938, he was awarded the Frank Clark Parson Memorial Scholarship to study at the Paris Place de Voges atelier of the New York School of Fine Arts. His work was critiqued by Pablo Picasso, Salvador Dali, and other notable artists of the period. Hempler's work was exhibited in Paris earning him high praise by a New York Herald art critic. Orval earned the first award given by the French woolen mills, and he described the French National Fabric Design Award as a most memorable achievement. His artwork was manufactured into fabrics for the French fashion industry. While still studying in Paris in 1939, he was awarded another traveling scholarship that enabled him extensive study and painting tours of Italy. World War II in Europe ended his travel abroad and he departed Naples bound for home.
Hempler won a scholarship to the University of Iowa in 1940 and began working toward his master's degree, studying under Grant Wood and Jean Charlot. While a graduate student, Orval designed Picasso themed costumes for the floor show and event décor for the annual Beaux Arts Ball, which was a fundraiser for the Fine Arts programs at the University of Iowa. He completed work on his master of fine arts degree in 1941. Orval then joined the University of New Hampshire staff as a graduate assistant in the Department of Architecture teaching watercolor. An exhibition of his watercolors from his portfolio of work during his European experiences were shown at the Boston City Club and won Hempler high praise from art critics. A new medium to express his art provided an opportunity for Orval and a fellow UNH student. They created an animated full color cartoon in which Orval drew the cartoons and the other student filmed. The pair completed a two-minute prologue that combined stage and screen media for the student written production of Katy Cadet. When the United States entered World War II, Orval's teaching career at the University of New Hampshire came to an end.
Hempler exhibited in 1942 with the New York Watercolor Society at the Museum of Modern Art and then began a three-year career in design with the large department store Carson Pirie Scott in Chicago. By 1945 he had moved to Santa Monica, California, and set up his studio becoming a freelance designer working in ceramics. He also designed for Lamps of California from 1946 – 1965.
In 1963 he generously donated some of his new work in ceramics entitled Sculptured Paintings to support the Kennedy Child Study Center at Saint John's Hospital in Santa Monica, California. Orval also taught as an instructor within the Los Angeles Unified School District from 1965 – 1968. Exhibitions of his new work, Sculptured Paintings, were held at the Palisades Library and Santa Monica Library galleries. In 1970 John Helm Jr. invited Hempler to exhibit his work in the eleventh biennial exhibition at Kansas State University, and his works Solar and Fossils were purchased by the Friends of Art. Awarded a grant from the Kansas Art Commission and the National Endowment for the Arts, Hempler returned to Kansas in 1975 and conducted a two-week artist-in-residence project in Norton, Kansas. He earned the Best of Show award from the Westwood Art Association, also in 1975. Later exhibitions of his art appeared in American Artists in 1985 and the Christian Science Monitor in 1987. Hempler died in 1994 in Santa Monica, California, and is buried in Woodlawn Cemetery. His estate donated funds to the Beach Museum of Art and many of his works of art to the collection holdings. The Beach Museum of Art honored his gifts by naming the long gallery corridor in his honor.
While researching the life of Orval Frederick Hempler, one fact — that Orval taught for the Department of Architecture at then Kansas State Agricultural College — has been included in numerous art references. No evidence has been found that verified Orval was on the faculty at Kansas State Agricultural College or lived in Manhattan, Kansas at any time.