10

Ruth Ann Wefald Gallery

By Anthony R. Crawford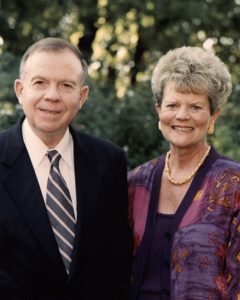 When Ruth Ann Wefald and her husband, Jon, the newly appointed 12th president of Kansas State University, arrived in Manhattan in 1986, they knew that the institution was the only university in the Big 8 Conference that did not have an art museum. Ruth Ann quickly took on the task to rectify that situation. However, little did she know that her efforts to create an art museum could be compared to her husband's goal of increasing the declining enrollment, improving the financial situation, and turning around the dire straits of the football team.
The arts were not new to Ruth Ann. Her father came from a musical family and was a talented banjo player. Her mother always had an interest in the arts and exposed them to her. Ruth Ann's interest in art took hold while she attended Smith College and the University of Michigan. Upon reflection she told the Salina Journal, "I think art makes us look at the world in different, and maybe deeper ways. You look at things with new eyes. It causes us to maybe be quiet for a minute."
Before arriving in Manhattan, Ruth Ann gained experience in economics and fund raising in Minnesota. She helped establish a women's career counseling center to help rural women find jobs and start training programs to improve their economic security. She learned how to weave art into fund raising. For example, she was involved with a rural women's painting competition and helped raise money to fund the event. She also worked for the Minnesota Department of Economic Security. Ruth Ann brought these experiences with her to Manhattan.
Over the years, people had attempted to raise funds for a museum but that led to little or no results. Nonetheless, the university had built an impressive art collection beginning in the 1920s with the efforts of John Helm, a professor in the architecture department. He was the major force behind acquiring art for the university from 1928 to 1970 and establishing a friends of art organization in 1934. Unfortunately, the works of art that were acquired during and after Helm's retirement had to be displayed in insecure buildings across campus and housed in unfit storage areas.
Ruth Ann began to explore what it would take for K-State to have an art museum. The task was daunting. For example, the university was facing severe financial difficulties, enrollment was declining, and little was known about the art collection that was so worthy of a home. With information provided by Charles Stroh, head of the Department of Art, and Jessica Reichman, curator of the university's art collection, Ruth Ann was convinced that she was not going to take "no" for an answer when it came to an art museum for K-State.
For ten years, Ruth Ann led the charge beginning with two years of visits with interested people around the state. Jessica and several others usually accompanied her to describe the art collection and the need for a museum. The support and assistance of the K-State Foundation and Alumni Association were instrumental in building support for a museum. But a permanent home for the art collection could not happen without significant funding. A major step occurred when the museum was included in the university's Essential Edge fund-raising campaign that began in 1990. Ruth Ann and Jon were instrumental in obtaining key financial commitments from R. M. Seaton of Coffeyville and Ross and Marianna Beach of Salina. Ruth Ann breathed a sigh of relief when Ross agreed to contribute $2 million in Marianna's name on their 50th wedding anniversary. Their gifts, and those of others, made the dream of a museum become a reality when the building was dedicated as the Marianna Kistler Beach Museum of Art on October 13, 1996.
Ruth Ann continued her association with the Beach Museum. When the collection and staff grew, so did the need for an addition to the building. She chaired the campaign that resulted in a new $6 million addition in 2007. Over the years she served as president of the Friends of the Beach Museum of Art and a member of the museum's Advisory Board and Board of Visitors. She continues to be an advisor on the Friends' board.
Ruth Ann did not limit her activities to the Beach Museum. She is well known for her involvement with other organizations at the university and in Manhattan. Having rowed while at Smith College, she took interest in the women's rowing team at K-State and played a key role in raising $1.3 million for the Briedenthal Boathouse at Tuttle Creek Reservoir. Ruth Ann was active in the dance and theater program at K-State serving as chair of the dance development board. One of the new dance studios was named in her honor. In 1997 Ruth Ann was recognized by the Manhattan Chamber of Commerce as the Citizen of the Year for service to the community. She was active in raising $250,000 for an addition to the university's International Student Center that was completed in 1998. She played a vital role in improving the services of the Manhattan Flint Hills Breadbasket that included the launching of the "Cats for Cans" campaign where students collected food and donations for the food pantry. She also served on its board and as chair. In 2002 Ruth Ann was elected president of the National Association of State Universities and Land Grant Colleges' Council of Presidents' and Chancellors' Spouses. She had been a member of the council since her husband became K-State's president in 1986. Ruth Ann was the recipient of the Michael C. Holen Outstanding Leadership Award presented by K-State's leadership studies program in 2005.
Ruth Ann has been an amazing ambassador for K-State and the community of Manhattan. Her crowning achievement was the Marianna Kistler Beach Museum of Art. In spite of the odds against it ever being constructed, she was not about to take "no" for an answer. For her perseverance and dedication to an art museum at K-State, the Ruth Ann Wefald Gallery is named in her honor.