24

Charles E. Reagan Art Preparation Room

By Anthony R. Crawford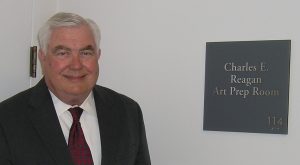 The new addition to the Marianna Kistler Beach Museum of Art, dedicated in 2007, included new galleries as well as work and storage spaces for staff and collections. In recognition of his contributions to the Beach Museum of Art, the art preparation room was named after Charles Reagan. This space is important to the museum's exhibitions program because it is where artworks are matted and framed, and frames and supporting preparation materials are stored.
When he became president of Kansas State University in 1986, Jon Wefald appointed Reagan his chief of staff. In that capacity Reagan played an important role in the formative years of the Beach Museum of Art that led to the building becoming a reality in 1996. During those years Reagan chaired the museum's operations committee that hired staff, established KSU Foundation and university financial accounts, organized the opening ceremonies, and developed operational policies and advisory committees. These activities ensured that the museum would function successfully once it opened.
Reagan began his K-State career as an assistant professor of philosophy in 1967. He became professor and head of the philosophy department in 1980. After serving as President Wefald's chief of staff, Reagan was named to the same position by President Kirk Schulz when he assumed office in 2009 to facilitate the transition between the two presidents.
Reagan chaired the prestigious Landon Lecture Series for twenty-six years, bringing U.S. and foreign heads of state, Pulitzer Prize winners, Nobel laureates, senators, prominent historians, national personalities, and others to campus.
Originally from Wichita, Reagan was a 1964 graduate of Holy Cross College in Worcester, Massachusetts. He received his master's degree from the University of Kansas in 1966, and in 1967 he became the first person to earn a doctorate in philosophy from KU. Reagan is a specialist in French philosophy and a biographer of the famous French philosopher Paul Ricoeur.
After leaving the president's office at the end of the 2009 – 2010 academic year, Reagan taught in the philosophy department until he retired from K-State at the end of the spring semester, 2016.