25

Bob Clore Carpentry Shop

By Susan Noblett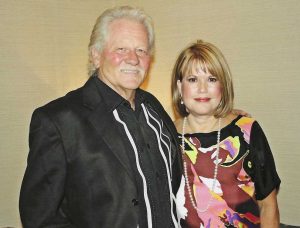 The Bob Clore Carpentry Shop is located on the first floor of the Marianna Kistler Beach Museum of Art in an area known as the work space. The Carpentry Shop houses equipment needed to install exhibitions at the museum. In 2015, through the generous support of Bob and Dale Ann Clore, all the power saws and tools in the carpentry shop were updated or replaced. This gift to the museum also provided a van that was specially outfitted to be able to transport works of art safely.
Bob Clore grew up in Denver and always wanted to be a cowboy. After graduating from high school, Bob made his living riding in the rodeo specializing in bull riding and bareback riding. He received a rodeo scholarship from Casper College in Casper, Wyoming, and earned his associate of arts degree. It was there that he renewed his love of art and went on to attend the University of Northern Colorado in Greeley. In 1968 and 1970 respectively he received a bachelor's degree and master's degree in art education. In the fall of 1970 he started teaching at Kansas State University as an assistant professor in the Department of Art. He was a popular professor who taught 2-D and 3-D design. In 1978 he completed his master of fine arts degree in design from the University of Kansas. Bob taught in the Department of Art until his retirement in 2003. Bob was in charge of the carpentry area in the art department, so he knew how important it was for the museum's carpentry shop to have the proper tools. Bob also ran a very successful business making award plaques for rodeo associations.
Dale Ann Clore grew up in Junction City, Kansas. She attended Stephens College in Columbia, Missouri. She graduated from there in 1974 with a degree in business administration. Dale Ann worked for the Manhattan Arts Council for twelve years as the business administrative assistant and for an additional twelve years as the buyer/business manager for Krystallos, a local boutique in Aggieville. Dale Ann shared Bob's love of art, and they have a large personal collection from Kansas artists and from purchasing pieces on various trips to Vail and Santa Fe.
Bob and Dale Ann were very excited when the Beach Museum of Art was built at Kansas State University. Bob knew firsthand how much the university needed a home for its art collection. Before the museum was built, the Department of Art was in charge of the permanent collection. Since there was no storage space in the department, the pieces of art were located across the campus in offices and hallways in numerous buildings. Every year the art department would appoint a committee composed of faculty members to move the art pieces to different offices and spaces on campus.
Bob and Dale Ann have been very generous supporters to numerous other projects at the museum. Their charitable donations have also provided funds to many areas of K-State, including McCain Auditorium, the Department of Art, and the College of Veterinary Medicine. Bob passed away in 2017, but his contributions to the Department of Art, the Beach Museum of Art, and Kansas State University will be remembered by all. Dale Ann continues to support the various projects that Bob and she have contributed to over the years.